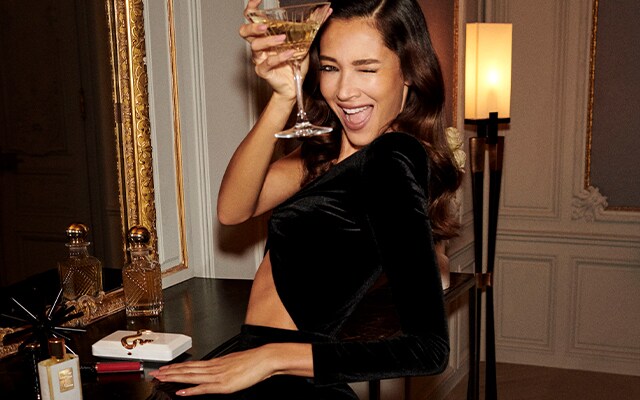 Rolling in Love cocktail
Discover the cocktail recipe inspired by the perfume Rolling in Love.

TASTE: Gourmand and Spicy
TYPE OF GLASS: Tumbler
METHOD: Shaker

_____


INGREDIENTS

HENDRICK GIN • 3 cl
ALMOND MILK • 3 cl
WHITE EGGS • 2 cl
LIQUID CREAM • 1.5 cl
TONKA BEAN SYRUP • 2 cl
AMARETTO • 1 cl
SAINT-GERMAIN • 1 cl
GERANIUM HYDROLAT • 1 cl
LEMON JUICE • 1.5 cl
SODA • 3 cl

_____


GARNISH

Tonka beans
Red flowers petals of nasturtium

_____


STEPS OF PREPARATION

1 Prepare your own Tonka syrup
250g - white sugar
200g - water
12g - Tonka beans
Prepare sugar syrup by dilluting sugar in the water, add tonka beans. Let infuse during 30 minutes.

2 Mix all the ingredients in a shaker tin, add ice cubes and shake vigourously.

3 Double strain into the glass over fresh ice, then add soda.
4 Add the final touches with flower petals and tonka beans on top.
Alcohol abuse is dangerous for health. To consume with moderation.
About our cocktail inspired by Rolling in Love
Let yourself be seduced by its greedy and spicy taste. Ideal with a tumbler glass, this cocktail will delight your taste buds and those of your guests thanks to its combination of gin, almond milk, liquid cream, Amaretto, Saint-Germain, geranium hydrolat, lemon juice, soda and egg white, with a final touch of tonka beans. Get your shakers ready!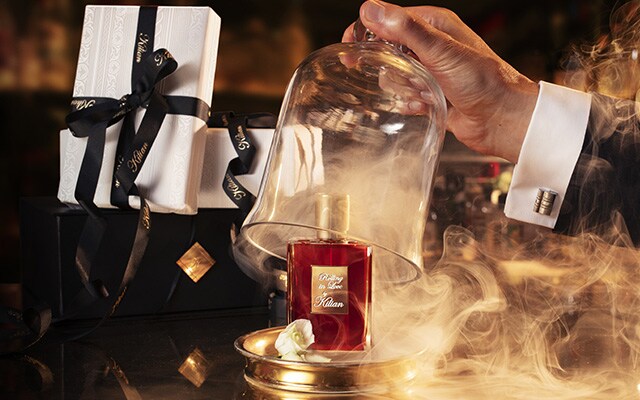 Rolling in Love
Discover this narcotic KILIAN Paris scented creation.